At DayBreak, we understand the needs and concerns of clients Alzheimer's and their caregivers. We strive daily to provide the resources needed to assist as you travel through this life journey.
When you are a caregiver, remember:
You help maintain the quality of life for your spouse, parent, family member, or friend with Alzheimer's disease.
You need to become educated about symptoms, treatments, and the progression of the disease.
You probably keep track of appointments with the doctor, medication schedules, and exercise.
You offer the love and support necessary to meet the challenges of Alzheimer's disease.
Although many patients retain their independence for a while after being diagnosed with Alzheimer's disease, some need more help performing activities of daily life (ADLs). For others, the diagnosis may come after weeks or months of you coping with symptoms that did not have a name. Regardless of how long you've been dealing with Alzheimer's disease or to what degree, in some way Alzheimer's has affected your life and responsibilities — physically, emotionally, or economically.
The role you have taken on is not an easy one. The following tips offer guidance on how to maintain and improve your caregiving relationship:
Learn as much as you can about your loved one's disease so you will know how you can help. You'll also understand which changes to expect in your loved one's behavior or symptoms. Journal this information and keep a calendar of trends and events.
Help your loved one participate in as many activities in the home and outside the home as possible. Maintain the intricate balance between helping your loved one accomplish a task and actually doing the task for him or her. Allow the patient the time needed to complete daily activities on his or her own, such as dressing.
Consult your loved one about his or her family affairs. Although it's not easy to discuss these topics, you should be informed of your loved one's wishes regarding a living will, durable power of attorney, and do-not-resuscitate (DNR) order.
Set realistic goals for yourself and your loved one. Do not attempt to do everything. By setting attainable goals, you are setting everyone up for success.
Do not put your life on hold. Continue to meet with friends, participate in hobbies or groups, and maintain a schedule as normally as possible. You will feel more energized and are less likely to feel resentful in the long run.
Have someone you can talk to. You are there for your loved one — to listen and to offer support — but you also need a support person. Talk openly and honestly with a friend or family member. If this is not possible, join a support group. Understanding that you are not alone and that someone else is in a similar situation helps you to feel nurtured.
Take time for yourself. Make sure you have time to relax. If necessary, enlist the help of other family members or hire a service to help.
The most effective caregiver is well informed and prepared and asks for help and support from all resources that are available. We can provide you a list of names and resources to address all of the issues. We, too, want to listen and offer support. Contact DayBreak Adult Care Services so we and help guide you through this journey.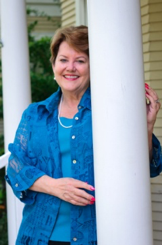 Linda Hart Lucas, Community Relations Director
Dementia Care Specialist
DayBreak Adult Care Services